How to become a flight parent from Cyprus?
FREQUENTLY ASKED QUESTIONS: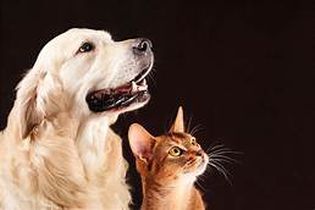 Here you will find answers to most of the questions asked by people who are interested in a flight sponsorship and who are dealing with the topic for the first time. If you have a question that is not covered here, please send us an e-mail.
Who can be a flight parent?
Any traveler who is planning or has already booked a flight can tell us the date of the flight and the data will then be automatically sent to all relevant animal welfare organizations. The animal welfare organizations will then contact you directly.
Do I have to plan anything beforehand?
As soon as the animal organisation know whether an animal can travel with you, i.e. whether an animal is expected in Germany, Switzerland etc., they will register the animal with the respective airline (of course only in consultation with you).
On the day of departure, the Organisation will bring the animal to the airport punctually at departure time in a suitable transport box.
The local contact person checks in the animal and takes care of loading. You will then receive the vaccination certificate and the health certificate and, of course, information on how to contact the contact person at the destination airport. (They are usually waiting for you there already.)
The Animal Welfare Association will contact you in advance so that you are always informed.
If the animal was not carried on the outward flight, will customs query that?
Possibly yes. Here the regulations for animals acquired abroad apply, i.e. for dogs younger than 3 months, an official veterinary health certificate is sufficient. For dogs older than 3 months, a certified rabies vaccination by an official veterinarian is also required. This vaccination should also be at least 30 days old and not older than 12 months.
However, the respective animal protection association takes care of this.
Financial burden?
Unfortunately many people think that to be a flight parent involves inconvenience, financial burdens or restrictions.
That is not so.
If you make yourself available as a flight parent, you need to do nothing else than to communicate your departure data.
The registration of the animal with the airline is carried out by the animal protection associations after the booking.
However, it is possible that if a dog/cat is registered later, it will no longer be able to fly, as only limited "animal places" are available.
There are no expenses for you! The Animal Rights Organization takes care of the preparation, the transport to the airport, and at the destination airport animal protectors receive the dog/cat again.
Should the airline, which unfortunately sometimes happens, raise an additional fee, then this is naturally taken care of by the animal protectors directly on site.
At the destination airport?
You will not see the dog/cat again in Germany (Switzerland or Austria) until it is handed over to you by an airport employee. Behind the barrier you will be expected again by an animal protector or the new owner of the animal.
What if nobody picks up the animal in Germany?
This has never happened before!
Remember that the Animal Rights Organization have considerable costs (health checks, vaccinations, chips, etc.) to bring the animal to Germany. It is therefore unlikely that the animal will not be picked up on arrival in the country.
In addition you should always receive an emergency telephone number from the Organization.
Why do I not get a Return Call even though I volunteered as Flight Parent and made my Flight Dates available?
There are several reasons for this:
It may be that there is no Animal Rights Organization that "works" in the region of the country you are flying to.
In some countries we unfortunately cannot find an animal welfare association, e.g. Tunisia and Morocco.
You may be flying to an airport in Germany where there is no animal protection association in the vicinity (strangely enough, we have noticed that most of the animal protection associations with which we work "sit" in North Rhine-Westphalia, but of course we also have a lot of "partner animal protection associations" elsewhere).
In rare cases, no animal welfare association has an animal to fly out at your travel time.
Unfortunately, most so-called "Budget Airlines", such as Ryanair, Easyjet etc. do not take any animals with them. Also many Turkish airlines do not transport animals.
Some airlines take animals with them only for a fee of € 15,- (and higher) per kilo and this is financially impossible for most of the Animal Rights Organization.
Please understand if you do not receive any feedback.
This is certainly not because no help is needed. Unfortunately, sometimes the circumstances do not fit.
This Article is also available in German here.